A Q&A with Truckers & Turnover Project leader Stephen Burks
The Truckers & Turnover Project
, led by Stephen Burks, with the University of Minnesota Morris, has earned the University of Minnesota Center for Transportation Studies 
2019 Robert C. Johns Research Partnership Award
 for researching commercial drivers and untreated obstructive sleep apnea (OSA). In the study, the research team identified that non-adherent drivers had a preventable crash-risk five times higher than those who treated their OSA. Burks answered questions on how programs for diagnosing and treating obstructive sleep apnea correlate with preventabl [...]
The final quarter of 2018 presented more mixed results for freight indicators than the roar of late 2017 and the first half of 2018. Still, rates remained near historic highs as trucking capacity held tight. As the year ended, the economy appeared stable despite that lull.
Little risk of a recession looms for 2019, with momentum from 2018's booming first six months and tax cuts expected to carry the U.S. economy well into next year, says Avery Vise, vice president of trucking at FTR, a transportation resea [...]
Truck drivers are one of the top eight occupations likely to commit suicide. A Facebook group has become a place for drivers with depression to get help and find camaraderie.
Veteran driver Michael Suson came home one day and told his wife that a colleague had shot himself dead. The driver had suffered from depression.
Suson, who had been driving for over 25 years knew about truckers and their high incidence of depression – he also suffered its effects – but until about four years ago, he wasn't willing to discuss it. Like many drivers, he believed that it was unmanly to "give in" to depression. He also believed, mistakenly, that any drugs that might help him, might invalidate his CDL. Truck drivers are in the 
Most truckers' dental emergencies from drivers include abscessed teeth, broken teeth, decayed teeth, and broken dentures, often made worse when dental care is put off.
Imagine visiting the dentist for what you think is a quick pain fix and ending up in a hospital emergency room?
Dr. Thomas Roemer, the dentist at the Iowa 80 Truckstop, has seen it too many times. His practice is 95% emergency, drop-in care, but too often it's beyond any dental intervention.
"My biggest advice to truck drivers is to keep themselves out of a medical emergency by making sure a dental problem doesn't turn into a medical problem…I'm not here to s [...]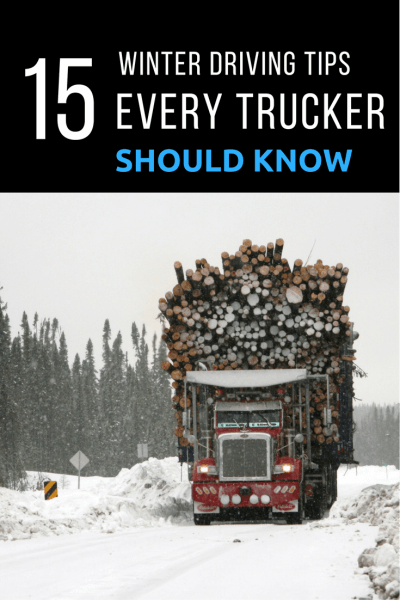 Winter trucking safety tips for truckers: driving a tractor-trailer in serious winter conditions, demands a specific set of skills for all drivers, especially big rig drivers. Too many drivers on the highways do not alter their driving skills, when driving in poor weather conditions, on snow-covered or icy roads. Good maneuvering and skid control skills are essential in poor weather. Knowledge and implementation of proper, preventative safety skills for driving in poor conditions, can truly separate the profession [...]