The Towing & Auto Transport Super Store
We are a dealership for the towing and auto transport industries. Shop our lot to buy or lease new and used commercial trucks, parts and equipment. Check out our huge selection of towing equipment, truck parts and trailer accessories. Find
Stop by our Portsmouth, VA store for parts, repair ,wash, professional vinyl wraps, DOT lettering or walk our lot to browse our wide selection of: mpl tow trucks, hpl wreckers, 5 pack car haulers, 35-50 ton heavy duty wreckers, flatbed rollbacks, rotator wreckers, 7 car carriers, 9 car haulers, 10 car carriers, 11 car high rail trailers, commercial trucks, Cottrell open car transport trailers, dry vans, new and used 7 to 11 car hauler trailers.
Proudly Serving Towing & Auto Transport Professionals More Than 25 Years!
---
East Coast Truck & Trailer Sales has been a part of the Auto Transport & Towing industries for over 20 years. We specialize in Car Haulers, Wreckers, Rollbacks, and Tow Trucks. Shop our large selection and give us a call. Our industry experts are ready to answer your questions. Go to New Trucks ►
---
Are you in the market for a used Wrecker or Car Carrier? We have your next pre-owned truck and trailer on the lot. Shop our inventory and give us a call. Go to Used Trucks ►
---
We have professional grade towing and pulling chains & hooks, winch cables, car trailer parts, auto transport trailer straps, tie-down bars, height sticks and MORE! Shop our huge selection of parts and equipment. Go to Parts ►
---
Our Finance Department at East Coast will assist you in processing your credit application in a timely manner and make sure your deal is submitted to proper lenders suited to your financial background. Traditionally, we can get you an answer within 48 hours. Call us or stop by East Coast and we'll help you get on the road! Go to Finance ►
---
Our truck repair facility is equipped with 15 maintenance bays to accommodate our growing demand for service! We are a DOT Inspection Station and our Diesel Particulate Filter (DPF) Cleaning system is the only one in the industry that is 100% OEM approved. For auto transport professionals we are an authorized warranty service center for Cottrell car carrier trailers as well as Arvin Meritor, Frigette, & Wally-Mo auto transport trailers. For those in the business of towing and recovery, we are an authorized warranty repair facility for JerrDan and Danco. Looking for warranty service on a tractor or semi truck? We service Eaton, Meritor, Peterbilt, and Western Star warranties. Each of our service bays is fitted with state of the art equipment and our certified repair technicians have decades of collective experience to minimize down time and get you back on the road faster! Go to Service ►
---
Protect your investment! These Warranties Are Available To Purchase:Cottrell Trailers – 2 Year Warranty*
Western Star 4900SF – Base Warranty 1 Year or 100,000 Miles.
Detroit DD13 Engine – Base Warranty*
2 years or 250,000 miles. Peterbilt 389 – Base Warranty 1 Year or 100,000 Miles.
Paccar MX Engine – Base Warranty*
First to 2 Years or 250,000 Miles or 6250 Hours Go to Warranties ►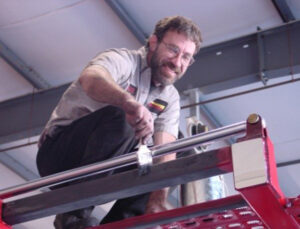 At East Coast Truck & Trailer Sales, you'll get the following with the East Coast Advantage: Hunter HD alignment system aligns the truck and the trailer together, Drive Shaft Adjustments, Portable Lifts, Warranty Repair Facility for Cottrell, Eaton, Meritor, and Jerr-Dan. Welding Repair and Fabrication, 24 Hour Mobile Repair, Automated Wheel Polishing Machine, Truck Wash & Full Detail, including Slip Plate and Non-Skid, Truck Lettering & Design. We have everything necessary to keep your auto hauler, car carrier, tow truck, wrecker, or car hauler on the road and looking new! Read more…