From yoga to cooking in the cab, a healthy lifestyle starts with the choices drivers make
From Yoga To Cooking In The Cab, A Healthy Lifestyle Starts With The Choices Drivers Make
Hope Zvara and Phil Knuckey co-founded Mother Trucker Yoga, and Tom Kryk is a blogger at Road Tested Living, a cook, and a truck driver. The three of them are among the presenters at GATS (and there are a lot of them) touting their knowledge, but also pitching a common theme: it's about doing what you are comfortable doing.
"A lot of the research shows that it's not just about moving 30 minutes a day, it's about moving throughout the day," Zvara explains.
A chance meeting at a business mixer in November 2017 brought Zvara, a yoga instructor for more than 20 years with her own studio, and Knuckey, a part owner of a brokerage firm in Wisconsin, together. The result of their meeting quickly led to the formation of Mother Trucker Yoga in the spring of this year. The company now offers consulting services – including helping drivers who have failed a DOT physical – and a series of 3-5 minutes videos featuring Zvara showing truckers yoga exercises they can do in and outside their trucks.
"You don't have to go out and pump 50 pounds of iron," Knuckey says, who notes that insurance companies are starting to target carriers with unhealthy drivers. Mother Trucker Yoga also offers fleet consulting services.
Drivers are provided 1-2 new videos a month (10 when they first sign up) with new exercises they can do as part of the $7.99 a month subscription service. Zvara also follows up with drivers with check ins once a month to answer any questions, offer support and advice, and help with any other needs the drivers have.
Most of the exercises are "mechanical based" and customized for a trucker's lifestyle. Many can be done while the driver is at a stop light. The key, Zvara says, is learning to breathe properly.
For truckers, yoga can be the perfect alternative to more demanding exercise and start the process of improving their overall health.
"If you are 50 pounds overweight and your knees are shot, who's going to go run?" Zvara asks. "Truckers deserve wellness and health just as much as anyone else."
Mother Truck Kryk, who is presenting cooking demonstrations this week at GATS, is a full-time trucker who is out on the road over 300 days a year. He says that, like many truckers, he has struggled with his weight and finding a way to sustain a healthy lifestyle while on the road. Also handy in the kitchen, Kryk now shares his culinary skills with other truckers through the Road Tested Living Facebook page and at truck shows such as GATS and Mid-America. He says the key to eating better on the road is making good choices.er Yoga donates 10% of all proceeds to the St. Christopher's Truckers Fund.
"Everybody in the world is selling a diet," Kryk says. "If they really worked, it wouldn't be a billion-dollar industry."
Kryk points out there are two words he hates: diet and healthy. The use of those words, he says, leads people down paths that may not be suitable to them. Instead, Kryk likes to suggest people commit to eating a balanced diet. For instance, during his cooking demonstration on Thursday, he was making burgers. Burgers, he points out, can be a decent alternative if you know what you are eating. Choosing a 90% lean burger is a better choice than using meat that is 70% lean. There are also veggie burgers, chicken or turkey burgers, and many other choices.
"Don't look at it as a diet, find yourself an eating lifestyle that you can do for 3-5 years," he says. "That's how I look at it. Can you do it long term?"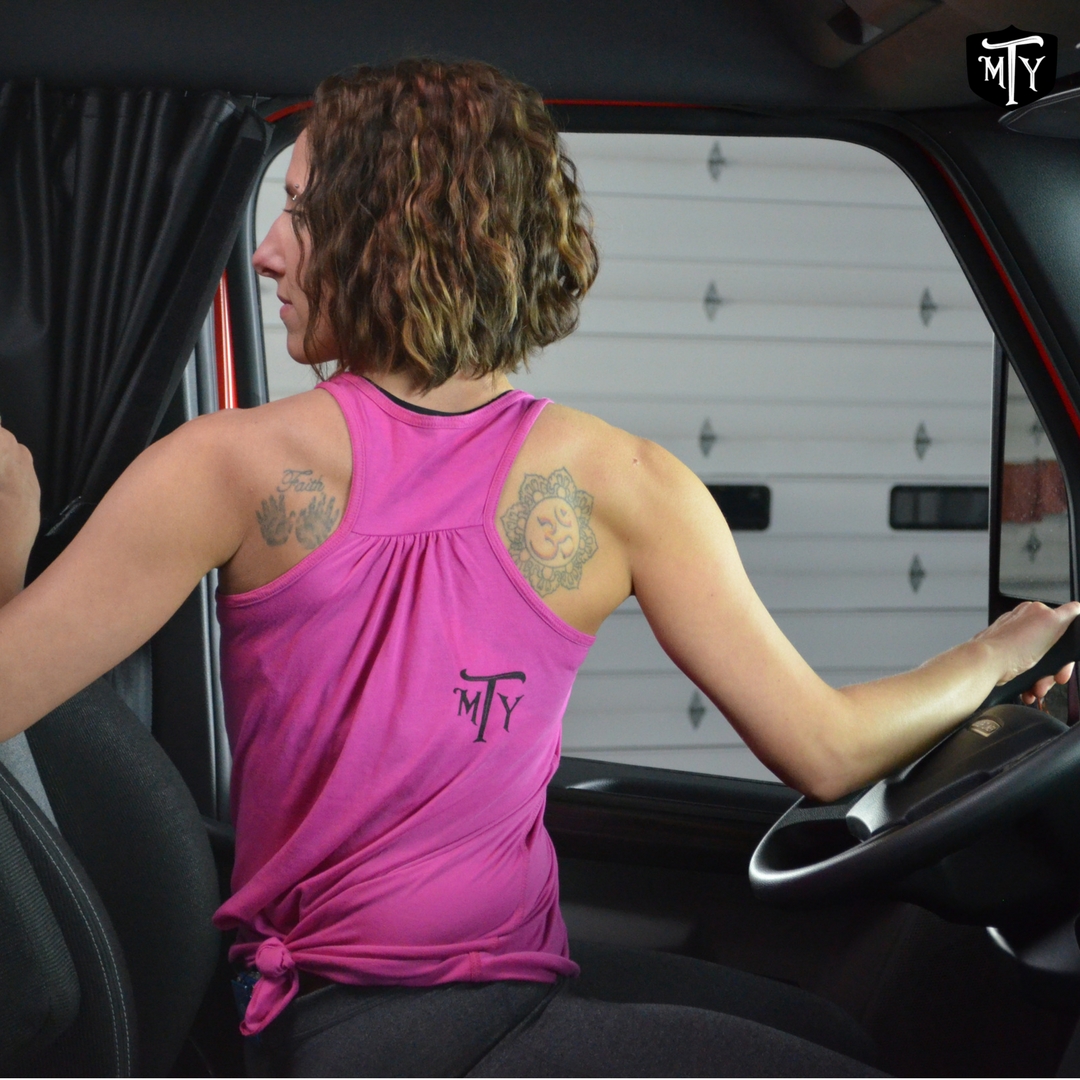 Kryk notes that drivers should look at labels and consider portion control. If you eat out – and that's okay – consider whether you really need to eat the bread if you are having a big plate of pasta.
Much of what Kryk talks about is how to eat in the truck. To do so effectively, he suggests you get a refrigerator of some kind for the cab that you can store fresh food in. If you have an inverter, he recommends an electric skillet, rice cooker or even a crock pot.
Consider, he says, stocking up on vegetables and the like at salad bars and then using those to supplement other food as part of dinners. If you must eat at a truck stop, don't be afraid to ask for food substitutes.
The key, he says, is to pick foods you like, eat them in moderation and don't change everything at once – consider swapping out a sugary drink for a glass of water to start.
"Cooking can be simple on the truck," he says. "It doesn't have to be elaborate."
It's about making choices, and while the food on the road might not be the healthiest choices available, with a little work, you can avoid the worst of it. A dietician or your doctor can help you get started on the right path, Kryk says.
"There's a lot of things you can do, you just have to look for them," he concludes.
Article Courtesy of Freightwaves